[ad_1]
The King's School in Parramatta has broken ranks with public, Catholic and the vast majority of independent schools in Sydney by refusing to mandate masks in classrooms for secondary students.
Back-to-school guidelines developed by NSW Education and NSW Health, and followed by public and Catholic schools, say secondary students must wear masks. But they are inconsistent with public health orders, which permit students to remove their face covering.
The vast majority of independent schools are following the advice and mandating masks for high school students – they are strongly recommended in primary – but King's told parents its secondary students were "not required" to wear them, although they could choose to do so.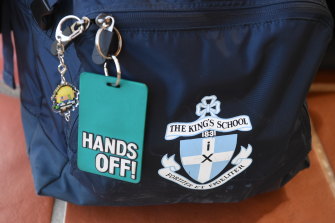 In a letter on Friday, headmaster Tony George said the school had a legal obligation to comply with public health orders, but as the school was independent, it could work within those orders to develop its guidelines that suited its academic, character, co-curricular and community programs.
"It is important to note that the NSW Education Department guidelines are primarily intended for NSW public schools," he said. "The King's School seriously considers all the advice and guidelines provided by all relevant authorities … it is the Public Health Orders that provide the express direction to independent schools.
"It is these orders that inform the school in discharging its responsibility to develop a return to school road map for our school in the context of our diverse geographic footprint, our educational programs and our significant boarding operations."
A NSW Education spokesperson said a student's parent or carer will be notified if a student does not have a reasonable excuse for wearing a mask, or is refusing to wear one, "requiring them to be taken home and permitted to return to school when wearing a mask".
The majority of Sydney independent schools contacted by the Herald are following the NSW Education guidelines and mandating masks for secondary students.
[ad_2]
Source link