[ad_1]
The good-natured theme of the day began when the ever-mischievous reserve prop, Dan Crowley, presented the Queen with a miniature football when both teams were introduced to her shortly before kick-off. The Queen replied"thanks very much" before tucking the ball under her arm.
Later, after the Queen presented the William Webb Ellis cup to Australia's captain, Nick Farr-Jones, the players trooped downstairs to their dressing room where they burst into Advance Australia Fair. It had never been sung with so much passion.
By this time tears of jubilation were being shed. Then began the chant. The players would point to one team mate, and shout "Troy Coker, world champion", going around the room, pointing and chanting, "Phil Kearns, world champion", "Tony Daly, world champion", "Ewen McKenzie, world champion" and on and on until every player, every world champion, had been covered.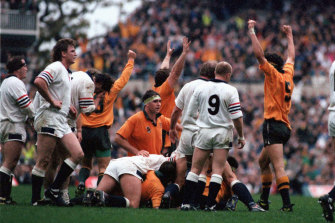 By this time some players were so exhausted by the pace and excitement of the final that they struggled to find the energy even to mouth the appropriate words.
Farr-Jones dragged himself out, to eulogise his teammate and player of the tournament, David Campese, saying that "if it wasn't for Campo we would not have been here today".
Campese blushed, while the rest of the team cheered the man who proved once and for all in this tournament that he is a footballing phenomenon.
Campese is to decide soon whether he will continue to play international football. He has inferred that he will not play for Australia again, but the lure of playing South Africa in South Africa may tempt him to don the Wallaby jumper for the 101st time.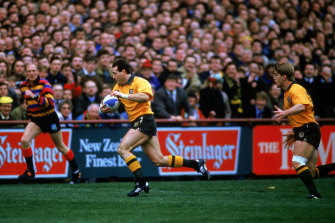 The Australian celebrations continued in the Rose Room at the English Rugby Union headquarters at Twickenham, with many Australian players still finding it hard to comprehend what they had done.
John Eales said the thought of winning the World Cup "would sink in more and more in the next 50 years" while Tony Daly said the game was "a blur – the yelling of the crowd was an echo, like thunder clapping back through your ears".
Then the Wallabies floated on air to London, where they were the stars of the closing dinner, attended by nearly 1,000 people.
As they arrived, a marching band tried to revive the England spirit with the playing of tunes such as Land of Hope and Glory.
It was here that the true camaraderie of international Rugby was felt, with opponents mingling and interlocking arms while sharing the many great moments of this second World Cup tournament. Later, the words of Auld Lang Syne rang through the dining room.
[ad_2]
Source link