[ad_1]
Townsville-based Labor MP Les Walker has been found not guilty of common assault over an incident in the city centre more than three months ago.
Mr Walker, 56, was issued with a notice to appear for common assault and disorderly conduct.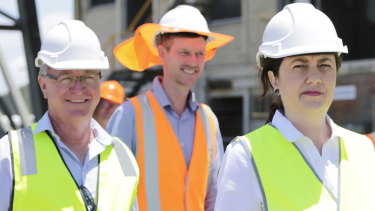 The member for Mundingburra was accused of getting into a fight with Stephen Lane, an independent candidate for the nearby seat of Thuringowa in 2017, outside a restaurant on Townsville's Palmer Street on July 30.
The matter came to a head on Friday with a full-day hearing in Townsville Magistrates Court where Mr Walker pleaded not guilty.
Police offered no evidence to the disorderly conduct charge and dropped it, but the hearing went ahead on the common assault offence.
In the end, acting Magistrate Peter Smid found Mr Walker not guilty of common assault.
In the aftermath of the July 30 incident, Mr Walker agreed to stand down from his roles on the transport and resources committee and as temporary Speaker.
This position on the parliamentary committee attracted an annual salary of $24,083, on top of his $159,122 base salary.
However, because Mr Walker only stood down and did not resign from the committee position, he continued to pocket the extra salary.
In an unrelated incident, Mr Walker was fined $800 for public nuisance and banned from Townsville's Safe Night Precinct after a fight with two men that left him unconscious during birthday celebrations in January.
Mr Walker was born and raised in Townsville and has 16 years' experience as a city councillor before entering state politics.
[ad_2]
Source link