[ad_1]
Sydney's inner west light rail will be decommissioned for up to 18 months due to serious "design flaws" in all 12 tram sets that operate on the line from the city centre to Dulwich Hill.
It is a dramatic escalation since three days ago, when senior Transport bureaucrats estimated that trams on the light rail line would be suspended for at least a month.
Transport Minister Rob Stokes said he was advised by transport officials in a briefing on Friday afternoon that the inner west light rail fleet would now be decommissioned for up to 18 months while the "design flaws" identified in the wheel arches of the trams were rectified.
"I want to stress this is the worst-case scenario," he told reporters.
"It's my expectation that we rectify these issues much sooner than that, but I did feel it was appropriate to let the public know as soon as I have been advised that the worst-case scenario is 18 months to get these light rail vehicles rectified and back on the tracks."
Mr Stokes said the problems found in the inner west trams were likely to be "far broader in scope" than just Sydney because thousands of the same tram types operated around the world, including Europe and the US, as well as in Newcastle and Canberra.
"What we have identified we believe is likely to be a design flaw," he said. "It's likely to be a global concern."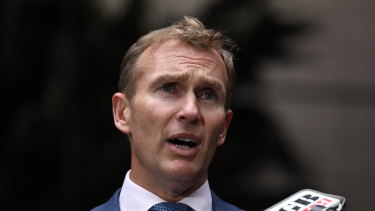 Tram services were initially suspended on the light rail line on Thursday last week after significant cracks were discovered during routine maintenance inspections.
[ad_2]
Source link